The Gleanings-V Face,  Mouth,  esophagus
Dr. M. A. USMANI
FACE
Warts on Face: Causticum
"Most characteristic symptom of Causticum on skin is warts. It is useful in the cure of these hypertrophies of the papillae when they occur on the hands and face." Caust. has been proved to cause and cure warts. A case of wart under the eyelid was cured, after creating an aggravation.     (CMM p.735)
Acne, Blotches and Pimples: Berb. Aq.
Also clears the complexion. Dose: Mother Tincture, in material dises. (Boericke)
Acne Vulgaris: Severe itching, burning; pores of skin turn black. Sabina
Pimples of Adolescents: Ast. R
Disposition to pimples at adolescence. Pimples at side of nose, chin and mouth.(Boericke)
Pustular Eruptions around Mouth: Cicuta
With yellowish, honey-colored scabs and matting the whiskers. "Even epitheliomas were cured when the cancerous growth was covered by these honey-colored scabs."  (CMM)
Comedones: Also Acne Rosacea, and painful pimples: Eug. Jamb.
Acne Simplex:       Kali. Br. & Nat.Br.
"I know no better remedy of such universal usefulness in cases of simple acne as in Kali.Br." (Clarke)
Acne from Masterbation:  Kali. Brom. (CMM p. 716)
Fever Blisters around the Mouth: Rhus-t.,  Nat.m
Nodules on Forehead: Physalis
Discoloration of Skin in Females:   Caulophyllum
With menstrual and uterine difficulties.
Epithelioma of Lips (esp. Lower): Cist., Clem., Ran. Bulb. (Kent)
Epithelioma of Lips (or Anus): Condurango   (Boericke)
Eruptions in and around the Whiskers:
Calc.Carb: Herpes oh the part of the face covered by whiskers.
Mezerium: Itching in the whiskers as from vermin and scaliness.
Lithium Carb. Cheeks under the whiskers are rough as a grater, itching.
Cicuta Vir.: Thick, honey-colored scabs in the whiskers as well as around the corner of the mouth.     (CMM p. 677)
Erysipelas of the Cheeks with Cobweb Sensation: Borax (CMM P.711)
Pain in Facial Bones with Acute Sinusitis:          Merc-i-R
Intense headache above eyes, in the turbinate and facial bones. Holds his face in hands and groans,  with catarrhal and acute sinusitis.  (T.K. Moor)
Facial Neuralgia:
Acon., Aconitine: Especially of congestive form. Has elective affinity to trigeminal Nerve. Anesthesia coupled with neuralgia.  (Hughes, PharmacoDynamic)
Spigelia: "Indispensable for left-sided prosopalgia., with severe burning and stitching pains."
Colchicum: Left-sided prosopalgia. Pains are associated with paralytic weakness of muscle, but lack the severity of those of Spigelia, and the excitement and the intolerance of pains which characterize that remedy, are wanting under Colchicum. (CMM p.322)
Neuralgia of the Face: Phosphorus
The pain is made worse by talking, eating, swallowing, or in general whenever the mouth  is opened; and if the jaws and the gums, at the same time, are invaded, more especially if there is great determination of blood to the head is present.  (Jahr, Forty Years' Practice)
Neuralgia of the Face:      Tilia Europa
(First right then left), with veil before the eyes. Confusion with dimness of vision. (Boericke)
Prosopalgia with Sour Taste:      Arg. N.
Especially when the infra-orbital branches of the fifth pair of nerves, going to the teeth, are affected. This pain is very intense and its height is accompanied by unpleasant sour taste in the mouth. The pain is of boring character. The face in almost all cases is pale and sunken, rather sallow than pure pale. (In advanced cases Dark and muddy).    (CMM p.607)
Neuralgia with Fullness of Blood-Vessels:       Ferrum Met.
This neuralgia is excited by washing in cold water when heated. The pains are of throbbing character, and are worse at night. Almost all these symptoms, both the congestive and the pains, are relieved by slowly walking about. Pulse is full but yielding, Aconite, full and bounding.  We will find, when ferrum is indicated, that the walls of the abdomen are sore, as if bruised.     (CMM p.640)
Mumps, Prophylactic against:        Trifol. Rep. Feeling of congestion in the salivary glands. Pain and hardening, especially submaxillary, mouth filled with watery saliva, worse lying down. Also Jaborandi (Pilocarpus): it limits the duration of mumps.                                     (Boericke)
MOUTH: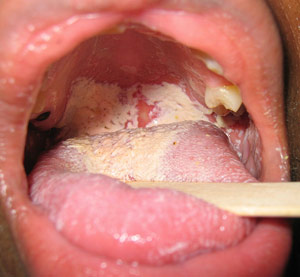 Thrush: Locally and internally.   Caulophyllum
Scurvy: Nursing sore-mouth (Veronica).aphthous stomatitis.    Rhus-Glabra
Dose: Mother-Tinc. Usually locally for soft, spongy gums, aphthae, pharyngitis etc. internally first potency.      (Boericke)
Cracking at the Corner of Lips:    Proteus
Resistant to all treatment.               (Julian's New Materia Medica)
Burning of Tongue, Tip Sore: Rhus. Rad.
Ulcers of Mouth and Fauces: Corydalis
Cancer cachexia pronounced.       (Boericke)
Malignant Ulcers of Mouth:      Semperv.Tec.
Ulcers bleed easily, especially at night. Soreness and stabbing pain. Cancer of tongue
(Galium). A remedy for carcinoma and scirrhous induration of tongue.              (Boericke)
Aphthae with Palpitation:     Illicium
Cancer of Tongue:     Kali Cyanatum
'Dose: 1/100 of a grain, every 4th. day.'    (Pharmacodynamics, Dr. Hughes, p. 150, according to him Hydrocyanic Acid is the active principle, hence any of its preparation or the plants containing it, as Bitter Almond and Cherry Laurel, can be beneficial).
Ulceration (and Aphthae) of Tongue:   Mur. Acid (Hughes, ibid)
Bleeding of Gums:        Arg.N
The gums are tender and bleed easily, but very seldom swollen, thus giving us a distinction between it and Mercurius.               (CMM)
Bleeding persistent after Extraction of Tooth: Trill.
"Clean out the cavity, so as to remove the clot and apply it on a piece of cotton soaked in the tincture of Trillium, it will surely check."      (CMM p.159)
Tartar on Teeth:      Fragaria
Prevents formation of calculi, removes tartar from teeth and prevents attack of gout. (Boericke).  "Bacillinum  removes tartar from teeth." (Burnette).
Copious Salivation:   Trifol.  Pr. Produces most marked ptyalism. Feeling as if mumps were coming on.  (Boericke)
Stammering: with abdominal ailments, with helminthiasis. Repeats the first syllable 3-4 times.  (H. C. Allen)
Stammering: "should attended toas soon as the first signs of it are perceived. Sometimes we cure it by making the child draw a long breath and hold it as long as possible; during the expiration they should be made to pronounce a few words. This exercise should be continued for several months with great patience and kindness. A dose of Belladonna, three pellets dry on tongue, every few days; or a dose of Mercurius may be given from commencement. Plat., Sulph., Euphrasia, Bov., are likewise useful. (The Homeopathic Teatment of Diseases of the Females and Infants at the Breast, Dr. G. H. G. Jahr)
TEETH:
[The chapter on teeth, historically, got much attention and exercise from the homeopaths the world over. No other anatomical field got separate treatment from the masters and the scholars. Separate repertories have been constructed, by the masters and the laity, on the symptoms of toothache. Very minute and insignificant nuances have been considered and noted. Separate perforated repertories were produced by the diligent homeopaths. But no practically viable headway could be achieved. A conglomeration of a jungle of incongruous symptoms was the result. The business of the dental surgeon, and the physician did not get any setback thereby. Their prices of consultation and skill continued skyrocketing. Only the homeopathically minded patients or the pecuniarily starved people come to homeopaths in this mortifying distress.  I myself did much fretting labor   on this topic only to throw it away later on. My motto, after myself undergoing excruciating experience of toothache, is: 'Never try homeopathic treatment more than two or three days, under a principled and seasoned homeopath; if of  no avail, consult the dental surgeon.' There would certainly be a pathologic lesion that cannot be redressed by medicines,  and only a timely palliation by pain killers or narcotic drugs. Read my article:
I've no bad record of my dental practice. I have cured many patients, who remained cured for long. But I never did it blindly. I sometime include the surgeon in the fray, and we worked like a team. The surgeon of my team never prescribed antibiotic after the extraction of the tooth; but sent the patient to me after plugging the wound with cotton.
Homeopathy can boast of one thing without any fear of altercation: i.e. 'but for homeopathy, many a patient would have got his jaws denuded of the row of teeth, that he was getting rid of, one after the other. Homeopathy saved their mouth and face from the disgrace of disfiguration; and looking old prematurely. Thus thereby they could get their health preserved.
Let's now come to the therapeutic of dental health. My reader will think that I'm biased towards Merc.Sol.  This is not the case. I'm not biased. My eulogy of the king of the kings, i.e. the great Merc.sol. has the background of my rich experience of 40 years. Here, as in the whole ENT field, Merc.Sol. is unrivaled. Whatever remedy, in a well-taken case, gives relief to the painful symptoms, the case will be completed, last of all, by the deeper work of Merc.Sol.  In contradistinction to the great Doctor Clarke, I've used Kreosote  thrice or four times in my whole life, and that too without any success. Even my mentor, Dr. Jahr has not used it ever for tooth ailments.
Merc. Sol. is a flawless remedy and reigns supreme from naso-pharynx to the buccal cavity and eustachian tube. I do not leave Merc.Sol., in the treatment of teeth and gums, even when other remedies become definitely indicated. Merc.Sol. seems to me the organ remedy for oro-pharynx and laryngo-tracheal regions.
My flawless and sure prescription for the severest pain caused by decayed or sound molar, affecting the whole side of the face, eye and temple, is Merc.Sol. in watery solution, alternating with Plantago Major.  This joint prescription is unfailing in my practice for long. I've tried to use them singly, but to no avail.  Dr. M. A. Usmani]
Toothache: ` Kreosotum
"In my own experience Kreos. (3 and 30) meets a very large proportion of toothache cases, where the teeth are decayed, especially, if the gums are scorbutic. Its nearest rivals are Staphisagria with blackened teeth, and Mercurius  with suppurating gumboils." (Clarke)
Caries of Teeth: (also loss of voice),         Coca
Wisdom Teeth, Cutting of:          Cheiranthus
Nose stopped up at night from irritation of cutting wisdom tooth. Also deafness and otorrhoea.          (Boericke)
Hemorrhage after Tooth Extraction: Bov.
Bleeding persistent after Extraction of Tooth: Trill.
"Clean out the cavity, so as to remove the clot and apply it on a piece of cotton soaked in the tincture of Trillium, it will surely check."      (CMM p.159)
Ailments after Tooth Extraction:         Tereb.
Toothache after Tea Drinking: Thuj.
Dental Fistula: Fl.Ac.
ESOPHAGUS:
Spasms of Esophagus in Hysterical Female:        Strych.
Stenosis of Esophagus: Hiccough causing chest pain. Cardialgia.     Stront.Carb.
Sensation of Lump or Constriction in Esophagus: Sinap.Alb.
Obstruction in esophagus with sensation of pressure and burning. Much eructation.
Stricture of Esophagus, with burning pain behind sternum:          Condurango
Food seems to lodge in the esophagus.
Food goes roughing along the Esophagus:   Alumina
Copyright 2011-12/All rights reserved © Dr Usmani
Contact author for permission to use