Amy Lansky will be our guest on The Health Inn Show August 5, 2013
Check The World Clock For Your Time Zone

Go to the show page right now ~>> CLICK
Visit NissanCommunications to view our live show.
Sign in with your name on the chat.

Tell us where you are located.

Comment and ask questions.

Call in to talk, if you wish.
Former NCH executive board member, Amy L. Lansky, PhD, author of the well-known introductory book to homeopathy, Impossible Cure: The Promise of Homeopathy will be our guest.
She will delve into a new area of study and expand our thinking. With her background as a computer scientist and passion as a homeopath and author, we will take a ride together as we investigate energy fields beyond the visible.

Let's talk about creating our own reality. This discussion may pertain to our understanding of homeopathy. I'm sure it will be exciting and you will want to invite your best friends.  


Tweet This Page To Your Friends Now


  ~ Share the image to the right on pinterest. 
We will learn about Amy's recent investigation into the Active Consciousness: Awakening the Power Within,"  and most likely hear some excerpts from her new publication. Drawing on parallels with synchronicity and scientifically studied aspects of mysterious fields, like the psi and morphic fields, Amy will show that it's just as Hahnemann said -- it's all about similarity in vibration. We encourage you to tune in and put the date on your calendar for provocative and mind-bending look at Lansky's latest work.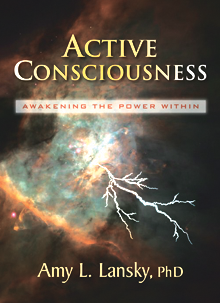 Active Consciousness: Awakening the Power Within is now one of the most exciting, far-ranging, and accessible books available on the topic of consciousness, spirituality, meditation, and the evolution of human awareness. Comprehensive, yet at the same time accessible and personal, this book invites you to not only learn about these mysterious subjects, but to develop the power of active consciousness for yourself. By including a series of exercises and experiments in meditation and self-inquiry, Active Consciousness provides an experience that will transform your life and help you evolve to a new level of awareness.
**********