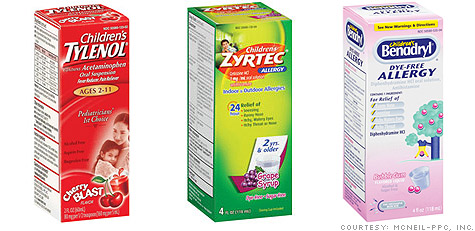 Tylenol maker McNeil-PPC is hit with fourth recall in seven months.
Tylenol is the brand name for acetaminophen and is an analgesic used to relieve pain and reduce fever. According to the FDA, acetaminophen was the leading cause of ALF (acute liver failure) between 1998 and 2003.
Paracetamol is a widely used over-the-counter analgesic (pain reliever) and antipyretic (fever reducer). The medical establish considers this drug safe at recommended doses (1,000 mg per single dose and up to 4,000 mg per day for adults, but only half that per day if drinking alcohol.  Overdoses of paracetamol can cause potentially fatal liver damage and, in rare individuals, a normal dose can result in fatal liver damage. Do not mix paracetamol with alcohol.  
Paracetamol toxicity is the foremost cause of acute liver failure in the Western world, and accounts for most drug overdoses in the United States, the United Kingdom, Australia and New Zealand.
Aspirin, paracetamol and other NSAIDs [nonsteroidal antiinflammatory drugs] all act by the same mechanism (inhibition ofprostaglandin (PG) synthesis) and all show varying levels of analgesic, anti-inflammatory, antipyretic and antiplatelet actions. 
The Cartoon from "The Straight Dope" below shows the volatility of liver destruction from the combination of alcohol and Tylenol, and even worse if someone has not eaten any food. This article states that tens of billions of doses of Acetaminophen are taken each year, with  20% of cases (Schiodt et al, Liver Transplantation and Surgery, January 1999) leading to acute liver failure, while the actual statistics may be up to 30%. A percentage of deaths are due to suicide attempts and the rest to accidental overdose.
KIDNEY DAMAGE: The New England Journal of Medicine (12/1994) published a study stating that a daily tablet of acetaminophen for a year or 1,000 pills over a lifetime doubled the odds of kidney failure.
You might begin to wonder about all those people taking a baby aspirin or more every day for their health, and when those people also drink down their daily beer or other favorite alcoholic beverage.
Who's Minding The Store?  Read this 1982 story of death by Tylenol. Now we can really wonder about manufacturing safety and practices. 
The nationwide number for the Poison Control Center is (800) 222-1222.
EMedicine | Medical Website Showing Stages of Toxicity and Detailed Information
How should the manufacturer package and market this drug? 

Do you feel it will change the way people will behave and take this drug for pain, discomforts and headache? 

Does homeopathy have more to offer in thesae acute and chronic cases?

Can we help people who are self-medicating? 

Can we get to the bottom of the issue, that people receive these warning signals for a reason, and to alleviate the pain by turning off the signal does not fix the problem? 
NEW YORK (CNNMoney.com) -- The quality and safety violations that led to the shutdown of a Tylenol plant were extremely serious, and could lead to tough action by regulators on drugmaker Johnson & Johnson.

"It's absolutely shocking," said David Lebo, a professor of pharmaceutical manufacturing at Temple University in Philadelphia, referring to the Food and Drug Administration's May 6 inspection report on the facility in Fort Washington, Penn., operated by Johnson & Johnson's McNeil division.

"This inspection report is pretty close to being the worst I've seen. It suggests that basically the FDA found an issue with almost every system at the plant," said Lebo, who had previously worked for Johnson & Johnson's pharmaceutical sourcing group in 2002. Lebo said he left that job after nine months because the work required too much travel.

On May 1, McNeil recalled some 50 children's versions of non-prescription drugs, including Tylenol, Motrin and Benadryl. Johnson & Johnson (JNJ, Fortune 500) has suspended production at the plant.

The FDA report listed 20 violations, which include 46 consumer complaints on the recalled products. Johnson & Johnson has not revealed details of those complaints.

However, Congress has opened an investigation into the recall, and lawmakers have given both Johnson & Johnson and the FDA a May 17 deadline to hand over details about the consumer complaints and any other FDA inspection reports on the Fort Washington facility.


The most damning, according to Lebo, was the charge that the plant "does not maintain adequate laboratory facilities for the testing and approval (or rejection) of components of drug products."

The report also said that McNeil failed to follow up on 46 consumer complaints received from June 2009 to April 2010 "regarding foreign materials, black or dark specks." Neither the FDA nor Johnson & Johnson would provide more details about the complaints.

"When you get consumer complaints you want to make sure you at least investigate them," said Albert Wertheimer, professor of health economics at Temple University.

The FDA also said that lack of proper controls in the manufacturing process led to some batches of infant's Tylenol being "superpotent," or having too much of some ingredients.

Also, the report noted that employees at the plant were not trained in current good manufacturing practices. The FDA inspectors further detailed dusty and filthy conditions at the plant, including "incubators with a large amount of visible gray and brown dust/debris, large hole in the ceiling and thick dust covering the grill inside a filtered cabinet."

In addition, the FDA said some drums used to transport raw materials to the Fort Washington facility were contaminated with a bacteria identified asB. cepacia.

Johnson & Johnson maintains that those contaminated drums never reached its plant and all finished products tested negative for the bacteria.

According to the Centers for Disease Control and Prevention (CDC), B. cepacia poses little medical risk to healthy people. However, those with certain health problems like weakened immune systems or chronic lung diseases, particularly cystic fibrosis, may be more susceptible to infections with B. cepacia.

It was unclear what action the FDA would take next, but the agency has said that it is considering a full range of actions.

One option is to shut down the plant completely. Wertheimer said that would be a tremendous blow to Johnson & Johnson. "The company would lose an enormous amount of market share in the over-the-counter drugs category," he said.

Another option is that the FDA could issue a consent decree. McNeil would be able to continue production at the plant, but would have constant third-party inspection. "It's a very expensive settlement for a drugmaker," said Lebo.

David Rosen, who worked at the FDA for 14 years and now advises major pharmaceutical companies on FDA regulation and compliance, agreed. "This is a very serious situation for the company," he said. "Having repeated recalls will cause reputational and trust damage for J&J," he said.

The latest recall is Johnson & Johnson's fourth in the past 7 months.

In November 2009, the company recalled five lots of its Tylenol Arthritis Pain 100 count with the EZ-open cap product due to reports of an unusual moldy, musty, or mildew-like odor that led to some cases of nausea, stomach pain, vomiting and diarrhea.

In December, McNeil expanded that recall to include all available product lots of Tylenol Arthritis Pain caplet 100 count bottles with the red EZ-open cap.

In January, McNeil recalled an undisclosed number of containers of Tylenol, Motrin and other over-the-counter drugs after consumers complained of feeling sick from an "unusual" odor.

J&J spokesman James Freeman would not comment on how long the facility will remain shut.

However, in a statement emailed to CNNMoney.com, the company said it will not restart operations until "we have taken the necessary corrective actions and can assure the quality of products made there."

Freeman also declined to comment on the number of employees at the plant or whether the workers are still on payroll.