Alopecia | Losing a few hairs on your comb or brush does not cause concern to most people. When the number of hairs reaches enough that you begin to notice "hair  loss" and bald spots, thinning of hair all over, or even dropping of hair from eyebrows, this may be cause for concern.
Medical Drugs | When undergoing chemotherapy the hair growth follicles are suppressed and hair loss can occur on all parts of the body, the arms, legs, eyelashes can fall out, the underarms and even genital private areas of the body. 
Men versus Women | Male pattern hair loss due to heredity is to be expected from generation to generation. I'm wondering if homeopaths in this community may have cases where this pattern has been halted. 
Children and Emotional or Nutritional Imbalance | Sometimes you may hear that a shocking event in a person's life caused their hair to turn gray. Similarly, a child who undergoes a shocking situation may loss their hair. This could happen suddenly or over a period of time. If a child is deficient in essential nutrients, lives in poverty or simply does not eat properly balanced meals, they may also have noticeable hair loss, limp hair, or lusterless hair.
Approaches to Hair Loss | Some people accept their hair loss as a part of their life and do not make a fuss. Others may respond emotionally or is that the other way around, that their emotional upset causes the hair loss? 
We know that when undergoing chemotherapy survivors wear scarves, hats, bandanas and wigs to cover up their head to improve their appearance or deflect comments from others.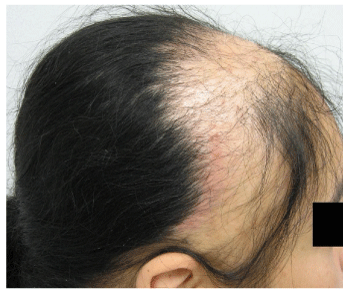 Talk To Your Doctor | On most websites you will hear the refrain to speak to your doctor. In fact, television, radio and website advertisements and commercials will bombard the networks with many innovative chemical drugs and pills to address the issue. Please voice your thoughts below about these treatment options. 
Talk To Your Holistic Care Practitioner | Have you had success treating all of the above conditions with homeopathic remedies for hair loss?
I am especially interested in learning the details of some of your cases. What "set of symptoms" or circumstances has brought about the hair loss that can be repertorized and confirmed in the materia medica? Please provide time frame for first sighting of hair loss and continuation of this condition, response and efforts of the patient, such as head massage, application of oils, tonics and creams, use of shampoos, nutritional supplements like gelatin and specific enhancing foods and/or spices and herbs. 
Please address this one set of symptoms where the family history of hair loss is present, when a person has experienced jaundice, and the person craves sweets and junk foods.