What Does This News Tell Us About Tamiflu?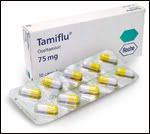 NEWS STORY | Drug-resistant H1N1 reported at Duke hospital back in 2009   | DURHAM, N.C. — North Carolina public health officials  that three of four patients at Duke University Hospital with a drug-resistant form of the H1N1 flu virus have died.

The adult patients, treated in an isolated unit of the hospital over the last six weeks, tested positive for a mutation of the virus that was resistant to the drug Tamiflu, one of two medicines that help against H1N1.

UPDATE April 10, 2014 - Review raises questions about Tamiflu
GOVERNMENTS should review the use of the widely used anti-flu medication Tamiflu, scientists say after new research questioned the efficacy of the drug.
The study suggested that Tamiflu, which is used to prevent and treat influenza, shortens flu symptoms by between a day and half a day.
But the authors said there was "no good evidence" to support claims that it reduces flu-related hospital admissions or the complications of influenza.
The researchers, from The Cochrane Collaboration and the British Medical Journal (BMJ), also claimed that taking the drug could increase a person's risk of nausea and vomiting.
And when used as a preventative treatment it can stop people developing flu symptoms but may not prevent them from spreading flu to others, the authors said.
TAMIFLU

In summary:  We already know that those afflicted with influenza are the young, old, and immune compromised individuals.

The news article continues to stand by their line that Tamiflu and Vaccination are the best and most effective treatments for this disease.

I think all agencies are concerned that the quick mutating viruses may take a turn and then the developed treatments will become ineffective as they are created to target specific viruses. An investigation is underway, but they do not elaborate on exactly what they are investigating. The quote in the news article states that the vaccine will still be effective "against this form of H1N1" even if the virus mutates [Dr Cameron Wolfe]

Back in 2009, "approximately" 52 resistant cases have been reported, but we do not know how many have not been reported, or included in their statistical data.
---
USA REPORTS | Drug resistant H1N1 found in U.S. and U.K. This article also states official agencies are investigating the "spread" of drug-resistant tamiflu at Duke Hospital in NC and five hospital in Wales. It appears the spread of the mutant virus is confined to the hospitals. Another good reason to "JUST STAY HOME" and not to go to the hospital. Like every other bacteria and virus, they are often found and spread in the hospital environments. This has been true or MRSA, as well. At least this article is more specific about the investigation and they explain that they are checking to see if the viruses in those that were effected are the same. This could give clues, I imagine, to whether their are spin-off viruses of one or many types. Which situation would be more severe, I don't know?

They are now treating one person with Relenza, the other anti-viral drug option and everyone will be watching to see if s/he recovers.
---
THE TROUBLE WITH TAMIFLU Warning of psychiatric problems with Tamiflu

A new warning label has been added to the influenza drug Tamiflu following reports of delirium and hallucinations among people - mostly children - taking the medication.

The US Food and Drug Administration (FDA) updated the label after reports of more than 100 people, mostly in Japan, who suffered unusual psychiatric effects, including cases of self-injury and suicide, when taking the drug. The FDA advised parents to watch out for such reactions in their children when treating them with the antiflu drug.
---
Nov 25, 2007 ... Tamiflu Causes Behavior Problems – According to the FDA, Tamiflu has been found to cause behavior problems in children and has been linked ... hitsusa.com/blog/342/tamiflu-causes-behavior-problems/ - Cached -

May 10, 2009 ... Warning of psychiatric problems with Tamiflu. Posted by alfied on May 10, 2009. Rumours, spread by the medical community and big pharma, ... inthesenewtimes.com/.../warning-of-psychiatric-problems-with-tamiflu/ -Cached - Similar -